Restore Your Teeth: Dental Implants in Brampton
Revive Your Smile with Dental Implants Near You
There are several different treatment options for restoring missing teeth. Dental implants are permanent, artificial roots that can support an artificial tooth, a dental bridge, or even partial dentures while helping to maintain jawbone strength and structure. Dental implants are one of the more complex procedures performed here at Tridont Dental Centre, but our experienced dental professionals are fully trained to install implants. We always look forward to helping patients achieve permanent restorations that look and feel great.
What to Expect During a Dental Implant
Dental implants are titanium screws that are installed into the jawbone, filling the space and function of the natural tooth. Implants are used in conjunction with crowns, bridges, or dentures. The procedure requires several visits to prepare the space, install the implant, allow time for healing while waiting for the custom-made crown, bridge, or denture to be made at the lab. The final step of the procedure requires the attachment of the implant to the restorative tooth device. Different steps of the procedure will require different amounts of anesthesia. If you have anxiety over complex dental procedures, talk to our dentists about options to help you feel calm.
Am I a Candidate for Dental Implants?
Most patients choose dental implants for their long-term stability and comfort. Our dentists will examine your mouth to determine if a dental implant is the right solution for you. One factor they will look for is whether there is enough space in the gum to install the titanium post and whether there is enough remaining bone for the implant to fuse properly for a secure fit. Other factors that will determine your candidacy for implants are whether you have certain chronic diseases, are a heavy smoker, or suffer from alcohol dependency. Our dental professionals will conduct a complete oral exam and discuss your treatment options with you.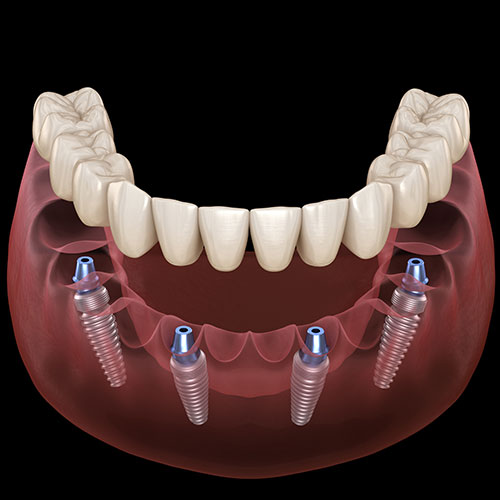 All-on-4 Dental Implants in Brampton
All-on-4 dental implants are a restoration technique that allows dentists to restore an entire row of teeth using only four to six dental implant posts per arch. This surgical procedure precisely places four titanium screws in the jawbone, which can then support a full fixed bridge or denture. The strength of the restoration rests mainly on the two front screws, while the back two screws are installed at an angle for added stabilization. This procedure is an effective, long-lasting alternative to full or partial dentures.
What to Expect During the Procedure
All-on-4 dental implants are a routine procedure that requires dental surgery to install the four implants. You'll leave our office with a temporary set of teeth so you can eat, speak and smile with comfort and confidence. It can take a few weeks for dental implants to fully heal and fuse to the jawbone, but once that stage is complete, you'll come back in to receive your permanent custom-designed dentures. We will work with you during that appointment and in any follow-ups to ensure that you have a comfortable fit and make any necessary adjustments.
Am I a Candidate for All-on-4 Dental Implants?
All-on-4 dental implants are often a consideration for patients who are missing an entire row of teeth, who have severely broken teeth, or whose teeth are compromised due to gum disease. Some individuals are not suited for dental implants if they have certain chronic diseases, are heavy smokers, or suffer addiction to alcohol. Talk to our dental professionals about whether all-on-4 dental implants are right for you.
When Was Your Last Visit?
Book Your Dental Appointment Today