Perfect Dental Bridges in Brampton
Bridge the Gap with Dental Bridges Near You
Dental bridges are a strong, cosmetically appealing solution for replacing missing teeth. They are known as fixed restorations because the artificial teeth are secured to the nearby teeth. Bridges can be used to fill the gap left by a single tooth or several. Our experienced dental professionals at Tridont Dental Centre are fully trained in dental bridge installation, so you can have confidence your smile will be restored to full beauty and function.
A dental bridge functions just like it sounds. The middle tooth is a fully artificial tooth that fills the gap left by a missing natural tooth. Meanwhile, the crowns on the ends anchor over the healthy teeth on either side of the gap. Depending on your needs and oral health, a dental bridge can be installed with the support of a dental implant or to the natural teeth. Talk to our dentists about which option is best for you.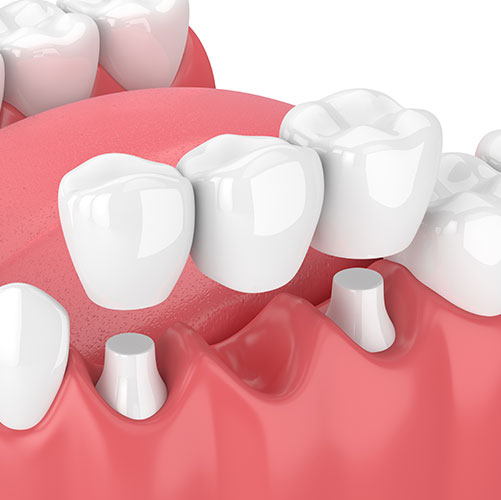 What to Expect During the Procedure?
Installing a dental bridge takes more than one appointment. During the first visit, we will examine your mouth and carefully prepare the area. We'll also take an impression of your mouth to send to the dental lab, where they will carefully craft your custom-made bridge. The next visit will involve the precise fitting and installation of the bridge. Additional appointments may be required if a dental implant must be installed to support the bridge.
When Was Your Last Visit?
Book Your Dental Appointment Today