Dental Crowns in Brampton
Restore Your Smile with Dental Crowns Near You
At Tridont Dental Centre, our dentists are experienced in installing dental crowns (also known as dental caps) to strengthen and beautify a tooth. We work with a dental lab to ensure you receive a custom-made crown that fits your mouth comfortably and looks just like a natural tooth. We often recommend dental crowns for restoration after a root canal procedure or to secure a fractured or broken tooth. We can also use them to enhance the look of a tooth or teeth as part of a cosmetic treatment plan.
The Process for Receiving Dental Crowns
A dental crown is created in a dental lab and modelled from an impression of your teeth. It can take a couple of weeks between the time our dentists take a detailed impression of your mouth, send it to the lab, and then receive the custom-made crown. After preparing your tooth, which may involve removing some of the tooth structure to ensure the crown fits, our dental professionals will ensure the crown aligns comfortably with your bite before permanently affixing it to your tooth. Dental crowns are durable, custom-fitted, and look like a natural tooth.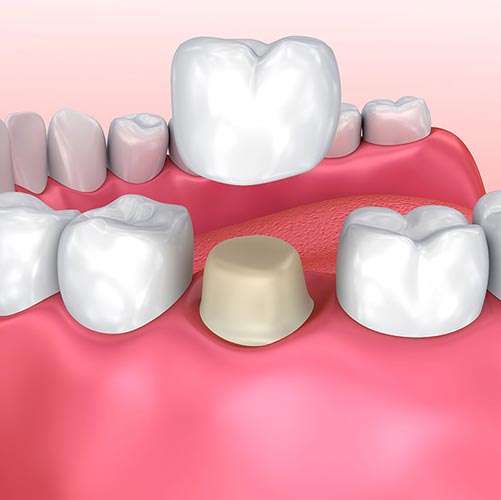 When Is a Dental Crown Recommended?
Dental crowns require that at least a partial amount of the natural tooth is intact in order to be installed, since the natural roots of the tooth hold it in place. A crown fits over the remainder of a natural tooth, filling out the rest of the tooth's natural shape so you can chew, bite, and speak normally. Dental crowns are usually recommended after a root canal or to keep a fractured tooth in place.
When Was Your Last Visit?
Book Your Dental Appointment Today