Your Premier Dentist in Brampton!

Tridont Dental Centre Welcomes New Patients
Convenience
We offer evening and weekend hours and a convenient, easily accessible location
Comprehensive Services
We provide a wide range of services in house in a convenient and comfortable environment
Committed Team
Our friendly team is committed to our patient's oral health and have positive attitudes
Your Trusted Partners in Oral Health
Tridont Dental Centre's dental care professionals are here to help improve your dental health and the appearance of your smile. Our dentist in Brampton, will offer a wide range of dental treatments to meet all of your family's dental needs at one convenient location.
When you're juggling dance recitals with soccer tournaments and work meetings, the last thing you need to worry about is fitting in dental appointments. We offer flexible scheduling options, including weekday evenings and Saturdays, to easily accommodate your busy life. We welcome new patients of all ages to our Brampton clinic and enjoy helping families maintain great oral health.

Family & General Dentistry
Your Neighborhood Dentist: Expert Care Near You
Life is unpredictable, and unexpected dental problems can occur even when the best preventative actions are taken. Our dentist near you will offer a full list of restorative and cosmetic dental treatments to treat a variety of dental issues, including cavities, fractured or broken teeth, tooth discoloration, and spacing or alignment problems. Call our office today for a consultation. We'll create a plan to achieve the smile you love!

Our trained professionals can meet the dental needs of your entire family with modern dental equipment and procedures, as well as our comprehensive list of general, restorative, and cosmetic services.

Permanent tooth loss deserves a permanent solution, and dental implants offer just that. Every dental implant we provide for a patient makes a significant difference. Ask us to learn more about your options for dental implants!
Meet Our Dentists Near You
Our experienced dental team is proactive in providing preventative oral care. We'll work with you to create a personalized dental plan that fits your needs. During our professional dental hygiene appointments, we utilize preventative cleaning techniques and offer patient education to help you keep your teeth healthy and your smile bright!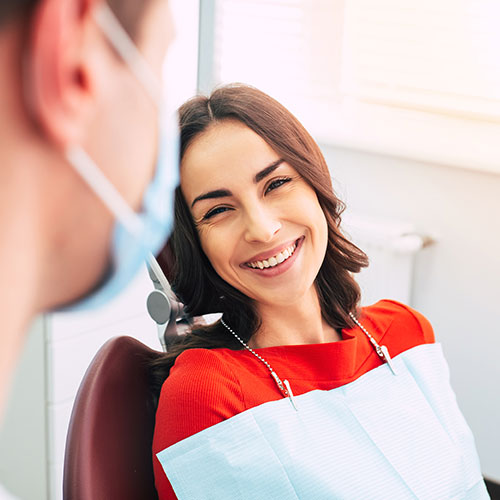 In The Heart Of Your Community
We are conveniently located in Shoppers World Brampton, on Main Street at Charolais Blvd. Find our dentistry in Bramptons in the Professional Offices near the Medix College Mall Entrance and Little Ceasars. There is a big parking lot with plenty of free parking.
When Was Your Last Visit?
Take Care Of Your Oral Health & Book Your Dental Hygiene Appointment Today