Root canal treatment is an endodontic treatment ("endo" meaning "inside" and "dontic" meaning "tooth"). A root canal procedure can be recommended for a variety of dental issues originating inside the tooth roots. The treatment is an effective method for preserving the natural tooth. Our experienced dental professionals are fully trained in root canal procedures and can perform them right here in our Brampton dental offices.
What Happens During a Root Canal Procedure?
Root canal treatment requires profound anesthesia to ensure your comfort, so if you have a fear of needles, talk to us before your appointment to discuss whether sedation dentistry could help keep you calm and relaxed. After drilling a tiny hole to access the roots of the tooth, the dentist will clean out the affected tooth pulp in the root canals of the tooth. The procedure is usually completed with the installation of a dental crown to restrengthen the tooth. This appointment may be booked as a follow-up appointment so that your dentist can check the roots again before installing the crown.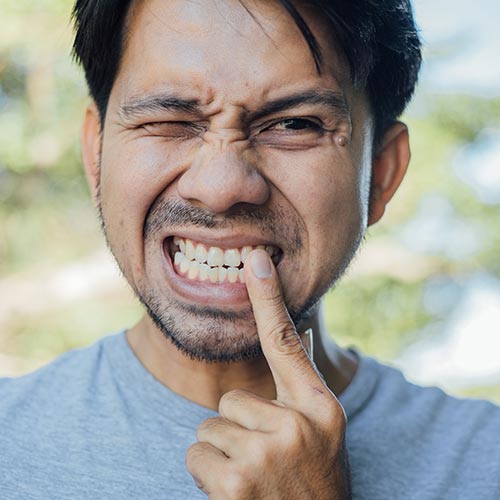 Am I a Candidate for a Root Canal?
Root canals are typically recommended as a treatment for infected or damaged roots. This can occur from severe tooth decay or trauma to the mouth. If we examine your dental x-rays and your tooth is able to be saved, then our dental professionals will recommend a root canal procedure. If the tooth cannot be saved, you may require tooth extraction and a dental restoration.
When Was Your Last Visit?
Book Your Dental Appointment Today