Fresh & Bright: Dental Hygiene in Brampton
Dental Hygiene & Oral Exams Near You
At Tridont Dental Centre, we are a committed, caring professional dental staff that has been serving the Brampton community for over twenty-five years. We are always pleased to welcome new patients of all ages, including families. If you're new to the area or looking for a new dentist, call our office and we'll arrange a new patient exam.
We use many traditional and digital tools and diagnostic methods to provide you with a full scope of your oral health. During each visit, we'll compare your current evaluation to your previous records to identify any changes or concerns. This allows you to have a clear picture of your dental health and make changes or plans for future needs. It also helps us treat potential issues before they turn into costly procedures.
We welcome new patients of all ages here at Tridont Dental Centre. We ask that you arrive about fifteen minutes before your first scheduled appointment to fill in some paperwork. Your first visit will take a bit longer than a routine exam as we get to know you, discuss your oral health history and concerns about your teeth, and answer any questions you may have. Please also bring a list of any medications you are currently taking and any relevant documentation for dental insurance. We look forward to welcoming you to our dental offices!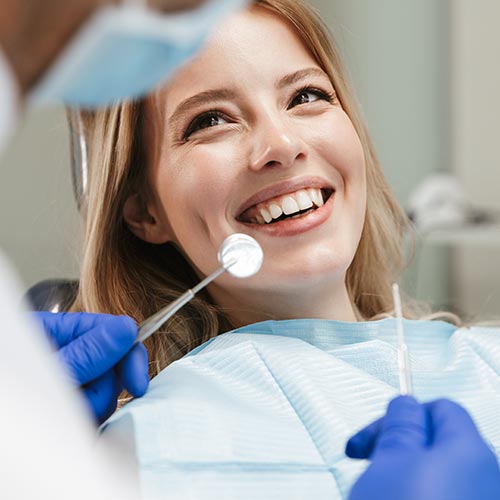 Dental Hygiene Appointments
Dental Hygiene Appointments in Brampton
Dental hygiene is the fundamental basis of long-term oral health. Combining our expert dental hygiene care with a thorough at-home routine can help prevent cavities and the need for restorative treatments. During your visit, we'll discuss a personalized dental care plan to keep you healthy and smiling. We recommend booking dental hygiene appointments twice a year for best prevention or as often as our team recommends for your personal health.
Prevention Is the Key
If you feel a sticky film coating on your teeth, that's plaque. When plaque is left untreated, it hardens and becomes tartar, which in turn leads to tooth decay and cavities. Brushing and flossing regularly reduces the amount of plaque that sticks to your teeth. Professional dental hygiene appointments remove both tartar and the stubborn, hidden plaque that sneaks into the gum line and deep between teeth. Regular visits should be part of everyone's health routine to clear up all of these substances and leave your teeth sparkling.
Professional Tips for In-Between Visits
We know you care about your oral health and want to practice the best preventative care possible to prevent tartar build-up and tooth decay, and we're here to help make achieving that simpler. Our dental hygienists recommend brushing twice a day, as well as flossing daily to maintain a healthy mouth. During your appointment, we'll show you effective methods and tricks to remove the stubborn plaque from your teeth, especially in those tough-to-reach areas.
When Was Your Last Visit?
Book Your Dental Appointment Today